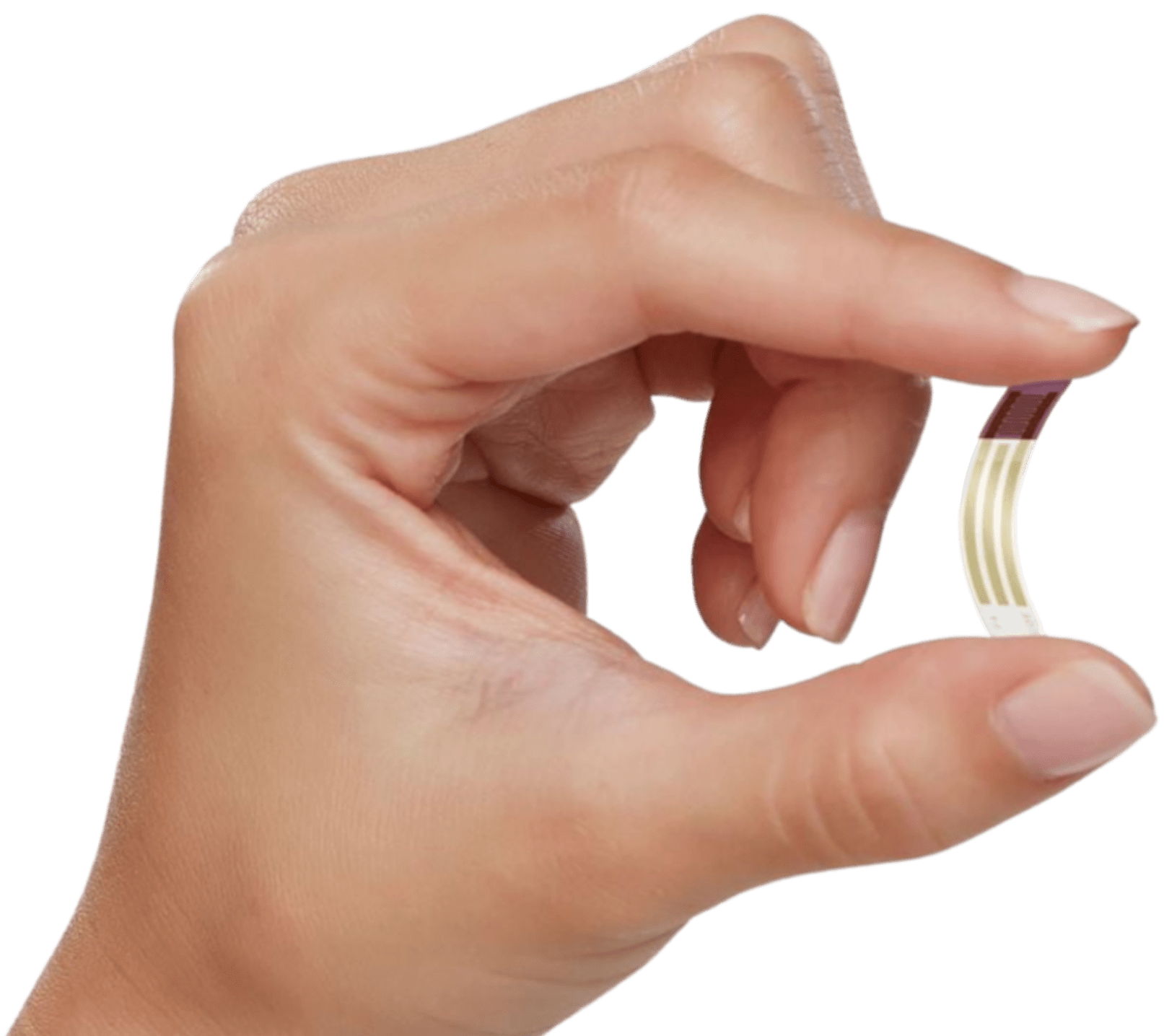 The Saliva Glucose
Biosensor
Our technology has the potential to replace the need for finger-prick blood glucose testing.
The Saliva Glucose Biosensor is a non-invasive, saliva-based glucose test for diabetes management that measures glucose in saliva, not blood. Our innovative technology could free people living with diabetes from having to use painful and invasive blood monitoring devices to manage their condition, providing a better quality of life.
We intend to demonstrate that the Saliva Glucose Biosensor can be used as a point of care self-test, indicated for the management of diabetes, non-adjunctive to blood glucose testing for diabetes treatment decisions.
* For illustrative purposes only and has yet to receive regulatory approval in any jurisdiction.
Place the Saliva Glucose Biosensor in contact with saliva.
A digital app displays the glucose measurement, flagging any data that needs attention.
The app provides real-time comparisons with historical data and sends data to an electronic medical record or caregiver.
The Saliva Glucose Biosensor System could allow a patient to achieve better glucose control through a practical understanding of lifestyle factors that affect glucose levels, helping prevent or delay diabetes complications and ultimately personalizing diabetes management.
At the patient's or authorized carer's requirement, data could be disseminated to a remote caregiver, a consultation service, or any other individual with whom the patient chooses to share their glucose level measurements.
Historic glucose
level comparison
Improved Glucose
Management
A precise, accurate solution for measuring glucose in saliva.
The Saliva Glucose Biosensor is being developed from the Biosensor Platform, a small, printable organic strip designed to put the power of accurate, timely diagnosis in the hands of patients and their primary health practitioners.
Because glucose concentrations are considerably lower in saliva than in capillary blood, detection sensitivity is of critical importance.
The underlying Biosensor technology of the Saliva Glucose Biosensor shows a linear glucose response at concentrations 100 times more sensitive than commercial blood glucose sensors.
The Patient

Pain-free, non-invasive and easy-to-use
Receives alerts and reminders
Discrete and affordable
The Doctor
Remote monitoring of patients and management of diabetes
Providing patient care beyond the clinic in real-time
Healthcare System
Reduces the cost of managing diabetes as it reduces hospitalization from comorbidities
Greater collection of patient data opens significant opportunities to improve disease management
Families
Get updates in real-time, offering peace of mind
Parallel monitoring
people with diabetes worldwide by 2045
currently live with diabetes
adults are at increased risk of developing type 2 diabetes